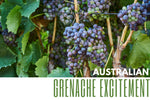 Australia's Most Exciting Grape
Perhaps most renowned for being a key component of Chateauneuf-du-Pape, it is of course, Grenache...
Being the first grape planted Down Under back in the 1830s, Grenache was planted in areas around Adelaide such as the Barossa Valley and McLaren Vale. It thrives in hot, dry climates, explaining why it is so widely planted in the Mediterranean Basin especially in Spain, where it is known as Garnacha.
Wine Australia reports that exports of Australian Grenache to Britain are up 33 percent per year. The increasing demand for this grape has seen the price of the grape increase from $577 AUD (£309) per tonne in 2014 to $987 AUD (£528) per tonne in 2019. 
Grenache can be bottled as a single varietal or works beautifully in a blend, particularly with Shiraz and Mourvèdre to make the fantastic Australian GSM. Grenache combines light texture, intense flavour, and notes of luscious red berries; pairing well with grilled meats and lighter curries. A wide range of styles have emerged over the years; from medium-bodied to rich and powerful, everyday drinking wines through to old vine examples.
Here at Tilley's Wines, we have a wide variety of Australian Grenache from Samuel's Gorge, Hugh Hamilton and Rusty Mutt in McLaren Vale, Claymore Wines in Clare Valley, along with many other fantastic wines. Please click here to view our range.