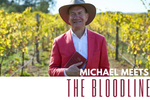 Michael meets The Bloodline
Hugh Hamilton Wines was featured on BBC2's Great Australian Railway Journeys with Michael Portillo on Saturday, 8th November 2020 at 20:00.
Michael visits Hugh Hamilton Wines, Australia's oldest surviving family in the wine industry. The McLaren Vale grapes were planted by founding patriarch Richard Hamilton nearly two centuries ago.
Mary Hamilton, Richard's great, great, great granddaughter reveals to Michael the murky past of her ancestor over a glass of their family Shiraz.
The programme showcases the much celebrated 'The Bloodline Set'; a beautiful tailor's crate housing a trio of noteworthy wines smuggled beneath a limited edition cashmere throw.